DISCOVER THE JOYS OF LUXURY CRUISING
​If you haven't previously considered it, now is the time to seriously think about taking the leap from a balcony cabin on a mega-ship to a more intimate luxury ship. Or get a taste of luxury in a suite enclave offered on a few mass-market and premium lines featuring exclusive suite guest only areas and loads of money saving extra amenities as well as additional space and more luxurious accommodations. Suites are not cheap, but if you consider all you get, you might be surprised to learn they are a great value. Consider the following as you make your decision:
Silversea waiter offers a towel poolside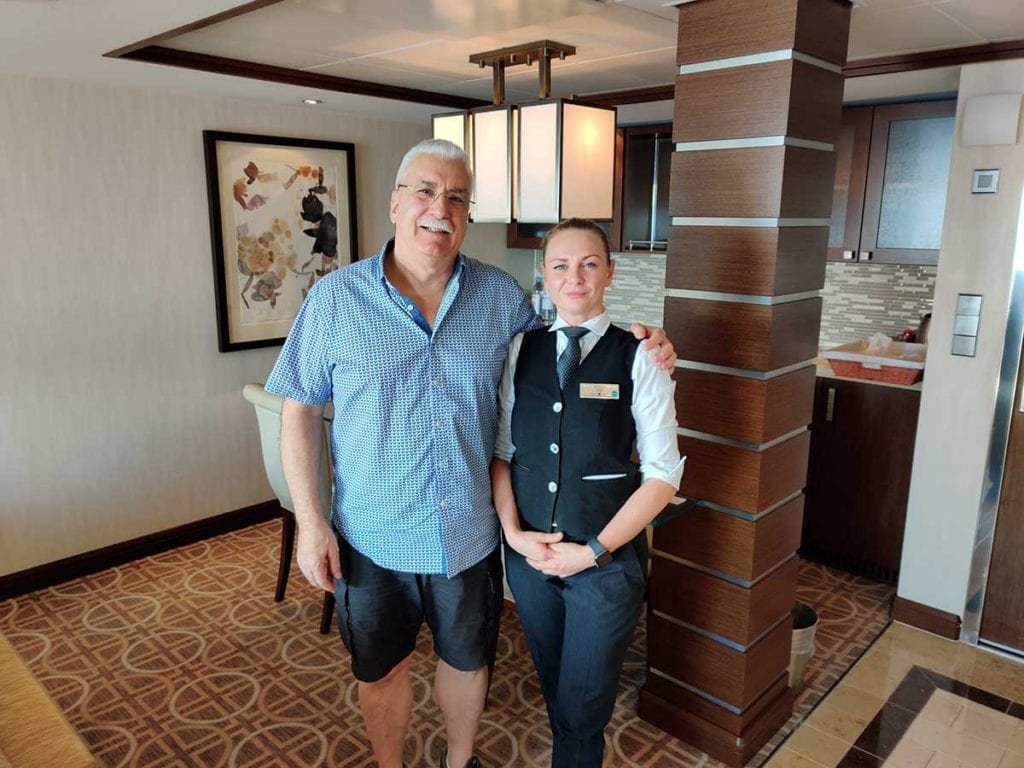 Natalia, our butler in the Celebrity Royal Suite
PERSONALIZED SERVICE TAKEN TO THE NEXT LEVEL
Most suites include a butler who caters to your individual needs. Want help unpacking or packing? Need a reservation to a specialty dining room? Your butler will take care of it. Is that specialty restaurant fully booked? Your butler can probably get you in. Do you prefer a certain type of soda or beverage? We like Diet Coke and Coke Zero. Our butlers always keep our mini-bar stocked with both. Need laundry done? Your butler will take care of it for you.
In suites, the staff attends to your needs and even anticipates what you'll want. What could make you feel more special that having your butler open your door and welcome you to your suite by name when he sees you coming down the hall.
One of my favorites is walking up to the bar, the waiter simply asks, "The usual?" as they've learned your drinks and preferences. All of this attention makes you feel very special. Just sit back and savor the experience.
LUXURIOUS, SPACIOUS AND SOPHISTICATED ACCOMMODATIONS
​Suites are more spacious and luxurious than standard staterooms. For many guests, suites feel more comfortable and give a warmth similar to what they are accustomed to at home. Décor is upscale and sophisticated. Larger suites have separate bedrooms, dual sinks and walk in closets.
Suites tend to offer extra amenities. Beyond luxurious designer bathroom products, suites typically have a pair of binoculars for viewing glaciers and whales in Alaska or volcanoes and jungles in Hawaii, or fjords in Norway or coastal villages on the Mediterranean. Other amenities may include beverage packages, shore excursions, Internet and more.
LAVISH & ELEGANT SHIP INTERIORS
​Because these lines do not cater to children and rowdy young adults, the ships have sumptuous public spaces appointed with high-end materials and finishes. With space per guest ratios double most of the mass-market lines, you'll never feel crowded. There are lots of nooks to steal away with a book or with a friend for an afternoon chat.
The atmosphere is decidedly quiet and tranquil. You'll not hear music blaring around the pool deck nor constant announcements over the public address system.
Beautiful fine art and sculptures adorn public areas. Bars and lounges are upscale and comfortable with a relaxed atmosphere.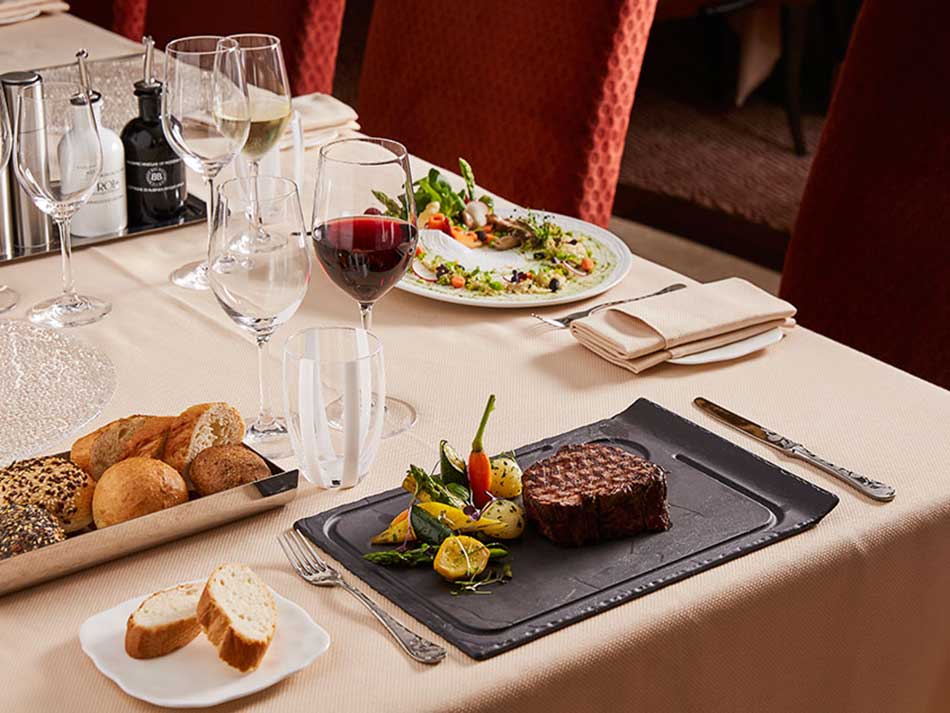 ​FINEST CUISINE ON THE SEAS
Where can you find some of the finest cuisine? On luxury cruise lines where their world renowned chefs, many Michelin-starred, craft menus and cuisine that rivals fine land restaurants. Dining rooms are intimate with knowledgeable waiters who quickly learn your preferences.
The cuisine is outstanding and service is impeccable. Menus are frequently changed to reflect the local flavors of the ports you'll visit. Most ships have several fine dining options so you can sample a variety of foods throughout your cruise.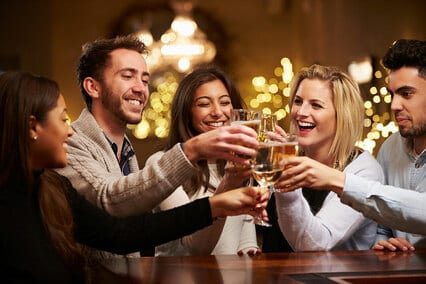 GETTING TO KNOW OTHERS
Luxury ships tend to be very sociable and that isn't much of a surprise. Most guests have led successful careers and are comfortable meeting and chatting with others. Its easy to meet fellow passengers and develop new friendships. Since drinks (including alcoholic beverages) are typically included, there is more socializing. You can invite fellow guest to join you for cocktails before or after dinner without worrying about who is going to pay. Smaller ships have a variety of games and events like trivia or small excursions which bring people together and encourage making friendships that can last long past your cruise.
So how to choose the right vacation for you?
Vacations are an investment! With literally thousands of options, choosing the right vacation and the best value is difficult to sort through. That's where I bring my 12 years of travel experience and expertise to do this right, and get you the best value for your money. With the backing of the largest travel consortium behind me, we have options you can't find online. Plus our work just gets started once we book your dream vacation. Chat with us to learn more.
The world awaits you and we look forward to assisting you in choosing the exact right adventure on the waters or land for you and your companions!
Let's chat and find the right vacation for you.