EXPLORE CITIES – NEW & OLD
A land or cruise vacation is a great way to explore cities you never been to before. You can choose to visit the cities of ancient civilizations and learn about their history and culture. Or visit some of the most modern and busy cities in the world where you'll enjoy five star cuisine or authentic local street food, a pulsing nightlife, and a thoroughly modern culture. Either way you'll have the opportunity to learn and experience new things.
A vacation offers you the opportunity to expand your experiences – take a walk through the bazaars of Morocco, climb the steps in a castle in Scotland, ride a gondola in Venice, explore an Mayan temple, or dance the night away in a nightclub in Singapore. One of the benefits of a cruise or land tour is they will take you where you've never been before, but give you comfort knowing you'll retreat to your luxurious accommodations each night.
​LET'S PIQUE YOUR INTEREST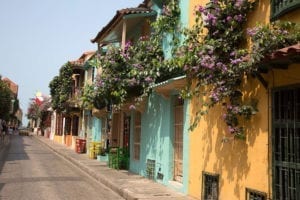 WALK ROADS HUNDREDS OF YEARS OLD
There are so many interesting towns around the world that are not as well known to American as Venice or Barcelona, but have as much charm and history with the added benefit that they are less crowded. The Adriatic coasts boasts many such fascinating villages as well as the well know walled city of Dubrovnik. Consider Buenos Aires, Argentina,  or Montevideo, Uruguay, in South America. Or visit Alaskan fishing villages and watch the whales breach the surface. Explore medieval castles and villages on a river cruise. Experience the  haunting but compelling story of Pompeii.
STARI GRAD, CROATIA
Take an excursion from Hvar, Croatia to Stari Grad. Neolithic tribes inhabited this area from 3,500 – 2,500 BC. It is nestled in the middle of Hvar island, Stari Grad has a deep water channel which is protected to the north by hills, and high mountain ridges to the south. Its geograhpy and welcoming towns people have made it known as a safe harbor for sailors.  For these reasons, Greeks, Romans, Slavs, and Venetians have all claimed the area over time. The town was formally founded in 384 BC, making it one of the oldest towns in Europe.
​Today a population of about 2,000 live in this idyllic town. The village is surrounded by olive orchards and vineyards. The town itself lines the marina. Old stone houses line the narrow winding streets.
THE HAUNTING TALE OF POMPEII
Pompeii was a thriving and sophisticated Roman city before it was destroyed by the Mount Vesuvius eruption in 79 AD. After its destruction it was lost for centuries.
Originally settled by Greeks in the 8th century BC, it reached its peak under Roman rule. The eruption covered the city in 19 to 23 feet of pumice stone and ash.
The quick and total covering of the city by volcanic ash preserved the city as it was at the moment of its death in 79 AD. It has become a source of great knowledge about the ancient Greek and Roman empires. Bakeries were fully intact with their mills, kneading machines and ovens. The tools of sculptors, toolmakers, and gem cutters were found.
Street signs, murals and original Roman graffiti remain. There is even a brothel complete with its picture menu of services offered. Several homes of the wealthy with their pristine garden courtyards are still intact. Today you can still walk through the Forum, the center of the city's economic, religious and municipal life.
THE CAPITAL TEMPLE AT ANGKOR WAT, CAMBODIA
One of the largest religious temples in the world, Angkor Wat sits on over 400 acres and dates back to the 7th century. It was built over 600 years.  Originally built as a Hindu temple it was converted to a Buddhist temple in the late 12th century.
While the temple of Angkor Wat may be the most well known and most restored, there are many other temples in the area worth visiting. Each temple is built completely differently. What began as simple brick structures, they developed over time into grand and elaborate temples as the Buddhist influence took hold.
SINGAPORE – ONE OF THE HOTTEST & MOST HAPPENING CITIES
This small city state in Southeast Asia has become one of the top spots for jet-setters. You'll find highly acclaimed cocktail bars and trendy restaurants open 24 hours. Of course there are karaoke bars galore. If you want to shop, you'll find top brands in the swanky malls. Bargain hunters go to Little India's Mustafa Center. The Geyland is both the islands red-light district but also its foodie hotspot.
Whether you prefer partying and shopping in the trendiest  hotspots, or wandering ancient cities, a cruise can take you where you want to go.
CELEBRATE LOCAL EVENTS & FESTIVALS WHILE YOUR SHIPS IS YOUR HOTEL
 
Edinburgh's Military TattooImagine enjoying three days of crazy and wild celebration at Rio de Janeiro's Carnival. Rio's is the largest carnival in the world with over two million revelers. During the festival, the streets are filled with floats and Samba dancers performing  elaborately choreographed dances in full costume, each telling a unique short story.
Many cruise lines have itineraries with multi-day overnights for festivals like Carnival around the world. During the day you can enjoy the celebrations, and at night you can return to the comfort and serenity of your luxurious cruise ship accommodations.
Another popular festival is the Edinburgh's Military Tattoo. It is Scotland's biggest and most spectacular festival with an audience of over 200,000 each year. As night falls, the castle is illuminated and becomes the backdrop for the 1.5 hour performance of military drills, bagpipes and drums, with traditional Scottish dancing. The event is followed with an amazing fireworks display over the castle. It ends each night with a lone piper, on the castle battlements, playing hunting music across the historic site.
Here are some of the other events you can visit from a cruise:
• Australian Open     • British Open     • Cannes Film Festival     • Football World Cup (depending on location) • Mardi Gras    • Melbourne Cup     • Monaco Grand Prix     • New Orleans Jazz Fest     • World Rugby Cup (depending on location)
These events sellout fast and need to be booked early to reserve your accommodations and tickets to events.
So how to choose the right vacation for you?
Vacations are an investment! With literally thousands of options, choosing the right vacation and the best value is difficult to sort through. That's where I bring my 12 years of travel experience and expertise to do this right, and get you the best value for your money. With the backing of the largest travel consortium behind me, we have options you can't find online. Plus our work just gets started once we book your dream vacation. Chat with us to learn more.
The world awaits you and we look forward to assisting you in choosing the exact right adventure on the waters or land for you and your companions!
Let's chat and find the right vacation for you.